Metal Compass Sawblades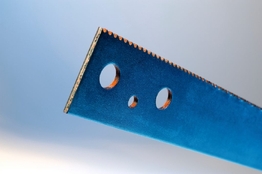 GUHEMA metal compass sawblades, manufactured to deliver the best cutting performance, suitable for all standard compressed air, hydraulic and electric compass saw machines. We also manufacture special dimensions according to our customer's requirements in addition to our standard products.
Materials, qualities and application areas
Our pursuit of the perfect sawing quality already begins with the selection of our starting materials, as these form the starting point for our top of the line products – materials that are not classified as "very good" do not pass our incoming goods inspection.
At GUHEMA, first-rate raw materials form the basis for a precise, quick and economic sawing process with
long downtimes and short cutting times
a long tool life
optimal protection for your sawing machine
We offer matching qualities for various application areas

GUHEMA Super-HSS

M2 Grade (Material No. 1.3343)

For materials up to a tensile strength of 1100 N/mm
2

GUHEMA Brillant

M35 Grade (Material No. 1.3243)

For extremely hard materials up to 1300 N/mm
2
such as austenitic steels and steels with a high chromium-nickel content

GUHEMA Bi-lastic

M2 Cutting Grade (Material No. 1.3343) on a special steel back

For materials up to a tensile strength of 1100 N/mm
2
Choosing the right tooth form
Only the correct tooth form provides our GUHEMA power hacksaw blades with the perfect bite. We offer:
---
Products